How to Photograph a family of 10 people, in less than 10 minutes, on the beach without being killed by lightning.
Why would you need to know this?
Well, sometimes the weather does not cooperate like you might hope it will, and then you need a very good plan, plus the know-how to make a potential disaster into a great success.
I did it, and here is the story.
Well Planned Photo Shoot can go Wrong!
OK, so what lead up to this photo shoot?
Only time the whole family could get together
This beach shoot had been planned from months. My clients could only get the whole family together on that Saturday, and they traveled 90 minutes each way to come and have their family shoot with me. We had discussed the photo shoot during the planning meeting and they had indicated that they would love to have a beach shoot with the whole family.
Storms rolling in!
That morning was stormy and grey. I had already postponed one beach shoot & cancelled another due to a massive storm in our area, and I called my client to let then know that there might be a small break in the weather to get their shoot in, but they would need to hurry up and get to the beach a little earlier than they had planned.
I was watching our local radar to predict when the break in the storm would be over us. This is a pretty common occurence in the summer months over here, the storms roll in from the hunter valley and come right over us – and then go out to sea. Notice the middle of the radar below – that pretty close to where we live, Nelson Bay.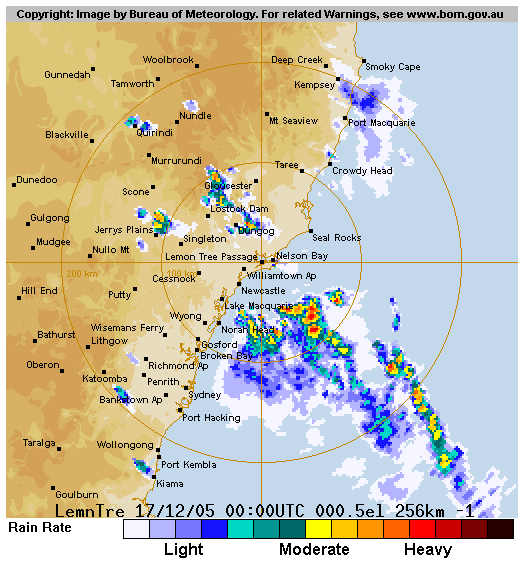 Clients got lost
This was where things started to go bad (not according to the plan) – the plan was to meet at my local beach. I was there at the right time as well as some of the family, but most of the family were lost and couldn't find the correct beach. We also had some problems with communications (probably the storm too), and I was starting to get anxious watching the next storm clouds getting closer and closer. Our window of opportunity was running out!
Too late for Birubi Beach – the Storm was on top of us!
Once the rest of the family found us – it was too late. The storm had reached us and the wind was strong and the rain had started coming down, not to mention the lightning and thunder all around us.
I had to make a quick decision. There was no way we could get all the family together again like this.
Off we went to another beach, close-by and a little more easterly from where we were. That meant we only had a few minutes before the storm struck that beach too. The storm roll in from West to East.
Running out of time! One-Mile Beach
5 minutes later we arrived at one-mile beach. The wind was calm but I could hear the thunder getting closer. I knew that we had 5 to 10 minutes to photograph this family before we were rained out, or possible struck by lightning (not good to have a client die on one of my photo shoots)!
I quickly got everyone down to the beach and then went into my shooting mode, just like I explain in my course How to Photograph Kids – Naturally. I photographed all the scenes, group shots, different family units plus closeups in under 10 minutes!
The System that saved me – and the day!
With such a limited amount of time, and such a large family to shoot, this was a shoot I could not "wing it" or go in un-planned. So I followed my tried and tested system for photographing families.
1. Location:
Find the best location to shoot the family, looking at the wind direction as the main factor. This step was decided for us by the approaching storm. We rushed to the closest beach that would be least effected by the wind – for a few minutes!
2. Scenes:
What are the best scenes to shoot when you have limited time. With this family it was the whole family group shot, of them walking together, plus the scene with the grand-parents and grand-kids, and then all the individual family units (mum, dad and kids), and then the grand-parents and their siblings. Plus then all the closeups – if i had time.
So I started with the most important scene (family group walking down the beach) and ended with the least important – Closeups.
3. Techniques & Camera Settings:
The technique I use most of the time is to shoot with a very shallow depth-of-field, and I call it my F4 rule. I try to keep things simple and worrying about what shutter-speed and aperture you are using only adds stress to the photo shoot. I want to focus on the people I'm shooting and not my camera settings. I have a whole chapter dedicated to this technique in my course How to Photograph Kids – Naturally.
4. Equipment:
Same as with technique, I use the equipment that works for me when I'm photographing families and kids. I shoot with a full-frame body (Canon 5d II) and a 70-200mm f4 lens, with a flash on the camera body – used outdoors. This is the most simple setup for photographing portraits and it works for 90% of the photo shoots I do. (I explain this in much more detail in my Kids Course. )
5. Practice
It's no good having techniques and equipment if you never practice them. This is probably the most important part of the whole system I use to photograph families. Have you ever wondered why the military practice all the time, dismantle their weapons (blindfolded) and then put them back together. The reason they do this is so that handling a gun (or camera) becomes 2nd nature to you, and almost an extension of your own body.
I know my camera gear so well that I can hear by the shutter release if there is something wrong.
Putting it all together:
So, I went ahead and used my system, and got all the images I wanted before we were rained out, and the storm was on top of us with lighting crashing very close to us. It was time to call it a day, and run back to the safety of the car!
My Record for a Family Photo Shoot – 8:45sec
From the very first frame (time 13:09:18) I photographed until the very last one (time 13:18:03), this shoot took me less than 9 minutes. Actually it took me 8 minutes and 45 seconds. WOW!
Normally a photo shoot like this will take me a good 45 minutes to shoot.
We walked away with 164 images and 1 video clip.
Clients LOVED the images:
Now this is the part that put the icing on the cake for me. Would my client like the images, and would they invest in any prints for their walls?
A few weeks after the shoot my clients arrived for the viewing and ordering presentation. I was a little nervous because the shoot had been so quick and I hoped they would like the images.
They loved them, and purchased a number of large canvas prints worth quite a bit!
My best work?
Was it my best work ? Under the circumstances, it was the best I could do – so yes it was. You never have everything go your way on a photo shoot, there is always something that could be different.
My theory is this: Do the best you can with what you have, and good preparation goes a long way during the photo shoot!
My Challenge to You:
Next time you have a portrait photo shoot – limit the time you have to shoot. Lets say, you need to be done in less than 20 minutes. Can you do it, I bet you can if you follow my techniques and methods in How to Photograph Kids – Naturally!
Want to learn more about portrait photography?
Grab My FREE Portait Photography Course
What do you think? Please leave comments below. Cheers, Brent